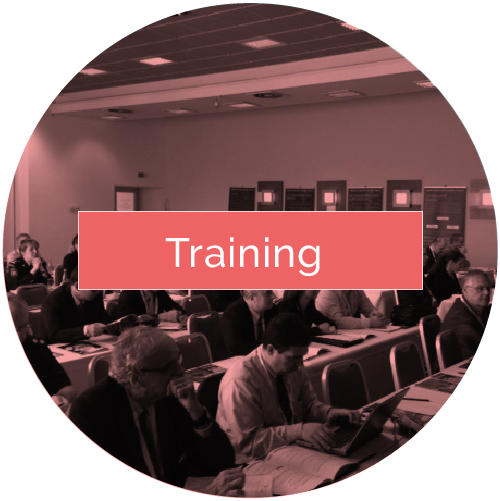 All our associates are global experts in their field and have significant knowledge and experience of delivering standard or bespoke training courses to both private and public sector clients around the world.
Modern day border controls are transforming rapidly in line with an ever-changing environment. The ambition is to move compliant people and goods across international borders, whilst simultaneously assuring compliance through modern day risk assessment methodology.
We have delivered training courses at Board level to Government Departments on frameworks for border management and border security strategies; pre-entry systems including digital visas and advanced passenger analytics and targeting; on-entry systems including ID and document verification; and after entry systems on identification and control, including enforcement.
Our associates have experience of delivering source training to Border Agencies worldwide on risk assessment frameworks and control strategies including airline risk and liaison issues, remote ID and digital visa systems, and advanced passenger profiling. Working with partners we also have extensive training capacity in customs controls, authorised economic operator schemes, freight targeting systems, and advanced customs handling systems.
We have extensive experience of generic coaching and training in change management, individual and collective leadership, team building, and public / private sector partnerships to deliver Border Transformation Programmes.
We are active members of the International Border Management and Technologies Association www.ibmata.org and regularly hold international conferences and events with world leading suppliers of technology in the field of digital and future borders systems. We provide expert advice on facilitation programmes including registered and trusted traveller programmes and trusted trader systems. We have also developed a prototype "seamless traveller journey" to enable the free flow of passengers and vehicles across international borders making best use of biometric and vehicle registration technology without compromising security – particularly relevant in developing the "new normal" for post COVID border control by minimising face to face contact between travellers and officers and document handling throughout the traveller continuum.
We are closely aligned to latest developments in Border Control around the world including the Border 5 group, the EU, ASEAN, FCC and Australia to benchmark best practice on current and future border controls.
For further details of our training portfolio please e mail us at info@fortinusglobal.com, for a free consultation.
Stay current, subscribe to our newsletter